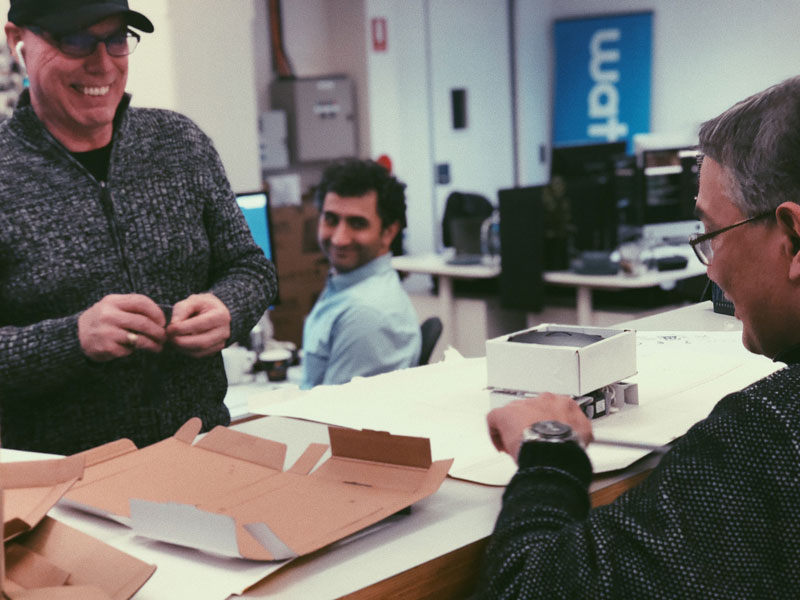 Jerry demonstrates his hidden talent as an origami master with packaging templates.
Designing a new consumer product from scratch for the global market is a great testament to the skills of the Wattcost team. It's not always been smooth sailing and the pilot production run has yet to be completed before we complete product certification. However, we couldn't be happier that you our Australian pre-order customers have the patience of angels and will be rewarded as the first consumers in the world to receive their Wattcost intelligent home products.
This month we welcomed several new investors, who through their international networks will enable Wattcost to expand into overseas markets as volume production comes up to speed. As a multi-national team, we already have English, Spanish, Punjabi, German, Malay, Dutch, Greek, Turkish, Iranian, Swedish and Danish covered. If you know an awesome tech product language translator, please ask them to contact me!
It's been another busy month as we continue to push suppliers to prioritise our plastics tool making and component supplies. For those of you who have not been involved with electronics manufacturing, some of the component lead times are a daunting 16-20 weeks in advance. And in the case of the common 100 mega-ohm resistor it's sold out for the rest of 2018! Production is also reporting some other component shortages, so we're busy hunting for alternatives.
The plastics tooling manufacturer has completed the "Design For Manufacture" evaluation phase on the main Beacon housing assembly. The initial report shows abrasion issues in the ultrasonic "waterproof" seal design - which means parts joined together at 20kHz frequency under 30-40 psi pressure with a matt finish are coming out polished in visible areas. With hundreds of design changes and fixes under the belt, our industrial designers have been busy making the necessary changes to ensure the manufacturing process will deliver the required surface finishes, repetitively and reliably.
That's a wrap for the FY1718 financial year! Looking forward to next month as the final parts and components start to come together.
Warmest regards,
David
CEO & Co-founder